Ticking over
Join Date: Mar 2019
Location: Stockton On Tees
Posts: 12
Recommendations for hard tops for new np300
---
Looking to purchase a new NP300 Tekna, not sure of the colour yet, however I will need a hardtop. Im looking for something that compliments the styling of the truck but not having huge side windows.

Ive looked at the Truckman but not impressed with styling, any recommendations would be greatly appreciated.

Thank you.
I'm now in 4th gear with power to spare!
Join Date: Apr 2018
Location: Whitchurch, Shropshire UK
Posts: 223
errr, Truckman Series, colour coded to your truck.
I'm new
Join Date: Jul 2018
Posts: 7
Carry boy, no Windows in the side and you get a set of roof bars
Cheers Guys,

Ive narrowed it down to the Alpha e type and the Ridgeback Premium.

Any thoughts
White truck looks awesome.

Love the square back with the 3rd brake light lip. Matches better to the tailgate top lip.

It would be the top on the truck on the left for me. And the truck in Silver. You lucky boy.
The first one looks a bit awkward to me, the grey one is tidier. What about this one?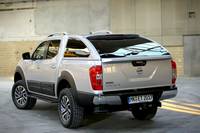 Ah, that's nice too! Also in Silver. Tidy.
Lose too much space with the last one landmannnn, looks good though
By the way Ive ordered the white one!!
Tekna auto, ordered a bedrug, front bar spoiler and heavy duty tow bar too.

Just cant decide which one.

Votes please, 1 each at the moment.
Super Moderator
Join Date: Mar 2016
Location: Lancaster
Posts: 454
Personally I'm not a fan of either of those hard tops, the window "kick" is wrong on the second one and the first looks odd with the large band round the glass.
I went for an SJS gullwing hardtop as it suited my needs although they do it with fixed, sliding and no windows. However the glass design compliments the trucks own design features so it looks more natural to me.
https://www.nissan-navara.net/attach...=60627&thumb=1
Currently Active Users Viewing This Thread: 2

(1 members and 1 guests)
JamieHep
Posting Rules

You may not post new threads

You may not post replies

You may not post attachments

You may not edit your posts

---

HTML code is Off

---