Discussion Starter
·
#1
·
Mods - sorry if this is the wrong thread! feel free to move
Nissan are taking back my current Navara due to the constant issues - but don't worry, I'm not leaving the forum!😅I managed to get a raptor on finance cheaper than a wildtrack direct from Ford - they knocked near 9k off the list price! So I'm a happy bunny but the ford forums aren't as interesting as this so I'm sticking around, sorry not sorry lol.
But in the meantime, I'm selling the tyres I bought for the Nav. 265 65 18 RADAR RENEGADE AT-5, RRP of £560, selling for 290. about 5k miles on them, no uneven wear as my tracking was 100%.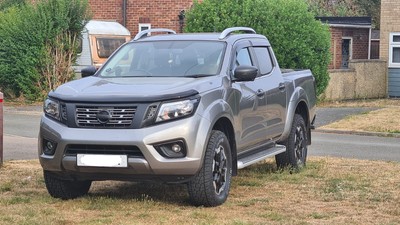 265 65 18 114H RADAR RENEGADE AT-5 ALL TERRAIN TYRES ONLY X4. Took it through mud that was getting defenders stuck in, this pulled through easy. Only £72.5 a wheel - so almost half price which is a complete steal.
They are really good condition, if you think I'm over valuing them let me know but I would bite someones arm off for this deal personally.
Perfect for an np300 - no rubbing and actually make it look like a proper truck. Also AT's so I was getting 30-33 mpg on these on a good run. Not too loud at all either, and far better than BFG's in the wet. And of course, really good off road.
and the newbie...
View attachment 67076